Network Operations Center (NOC) and Help Desk
Scale your business and service offering without the cost of adding personnel.
Use our NOC services to scale your IT workforce and our white-label Help Desk services branded with your name to add new around the clock operations and generate recurring revenue streams.

Scale Capacity
Network Operations Center(NOC) and Help Desk provide 24x7 white-labeled managed services and technical support to your customers. Together they provide flexible after-hours service or critical holiday relief to expand your capacity and capabilities while you focus on your business.

Streamline support and resolution
Well defined monitoring rules for NOC-managed assets and detailed workflow procedures complement our robust automation to ensure efficient support and resolution of customer issues. Ticket tracking and integration with your existing systems mean that no issue is overlooked.

Engage just the services you need
Let us provide service for workstations, servers, network devices or any combination. Choose the service level you need to deliver peace of mind for your customers 24x7.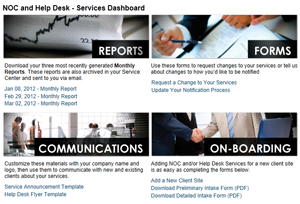 Centralized and Customizable
Red I.T. Solutions maintains a central triage so that all NOC and Help Desk issues can be actively managed to meet your expectations and to maintain a high, consistent level of service.
We accommodate special customer requirements to seamlessly maintain the existing partnership and service delivery arrangements you have with your clients.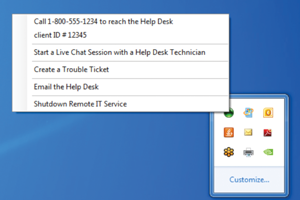 North America-Based Communications
Every interaction with our NOC or Help Desk is with qualified North America-based staff.
All staff are direct employees or qualified consultants operating under procedures and processes centrally defined and managed by Level Platforms.
All your Help Desk customers receive a desktop Support Assistant icon, email address, and unique toll-free number.
Help Desk supports all end-user technologies including PCs, Macs, mobile devices, and the applications they use every day.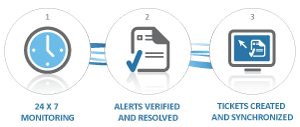 Synchronized and Integrated
Full integration and synchronization of the Service Center, your PSA, and the AVG Managed Workplace NOC and Help Desk PSA for seamless exchange, consolidation, escalation and transparency of case data.
Help Desk can automatically escalate issues to NOC or your technicians with comprehensive record of issues.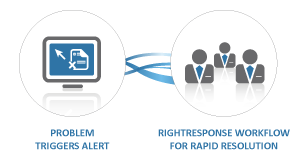 "RightResponse" Workflow Management
Hundreds of detailed workflow procedures developed by our most experienced System Engineers ensure consistent professional response to every major alert, including AVG Managed Workplace automation wherever possible to maximize performance and cost advantages.
Commitment to continuous improvement means ongoing expansion of "RightResponse" database to ensure best practices for the broadest range of technologies.
Workflow includes support for most Backup and Security platforms so you can choose the technologies you want to use, relying on AVG Managed Workplace NOC to ensure they are managed to the highest standards.