I.T. Consulting
IT Strategy and Planning just got Easier!
We understand there are varying information technology needs for every business or organization, and it's crucial to have the right IT plan and support in place to keep a business running.
Red I.T. Solution Consulting strategies: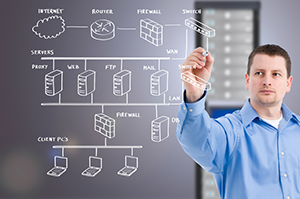 Strategy and Planning – our expert consultants will sit down with your team and find any faults in your current IT infrastructure. We will also plan and develop an IT strategy that meets the specific needs to roll out a new service or technology.
Technology Implementation – our network engineers will implement the perfect IT strategy for your business with thorough analysis and key vendor partnerships for dynamic solutions that will evolve as your business grows.
IT Oversight – we develop and recommend security strategies assuring your system is safe from potential issues or problems.
Our specialists can help you maximize your IT needs by developing custom-tailored plans to partially or completely outsource the procurement, installation, and continued management of your IT hardware and software.
We've got the technology and experience to launch your business to the top, and the technicians to implement it expertly. With any solution your business call for, our staff members will align you with the technology that can help you increase efficiency and productivity.